Mark Lindquist; Artist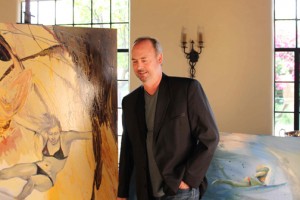 It's hard to ignore the striking singular figures commanding attention in the paintings of Mark Lindquist. He renders women, hummingbirds, horses, natural landmarks and other archetypes of myth and art history in a thick, loose, impassioned, andchromatically dramatic style in which every brushstroke carries meaning, and every element of the picture moves the story. But despite the power of the imagery, Lindquist almost never starts with a sketch. He lays the ground down first — engineering swirling, eddying, layered, and dynamic fertile riots of color that give rise to the figures, which come only later, if at all. His swirling atmospheres are made in wide-open palettes that sample an array of surreal color combinations. Lindquist appreciates and cultivates how the paint in those early moments is "active in its freewheeling way, unrestricted. It's raw energy," and he's right, the grounds are essentially action painting.
Besides the optical and emotional drama of those abstract elements, the absence of specific settings for these heroic figures enhances their monumental, even ceremonial quality by removing them from the ordinary world and setting them instead in cosmological or wilderness surroundings. He admits that his favorite inspiration is "confident women in beautiful light," but Lindquist sees all his subjects as avatars of Nature's power and grace. For example, the hummingbird that surfaces in several works is not a motif of gentle prettiness. With opulent color, thickly painted feathers, hunter's eyes, and sharp reptilian talons, his often large-scale birds are fierce, elegant, predatory, and prismatic. Lindquist feels simply that "Nature has a lot for me to explore. It inspires me to paint more loosely, and be more experimental."
The games he plays with intention and interpretation, portraiture, landscape, and fantasy also manifest in his fluid relationship to color and economies of scale within compositions. A woman's head with surfers on her furrowed brow; a tiger at home in the cosmos; tropical color radiating hyperreal humidity and heat, sheets of blank paper carried along on a hot wet breeze that also carries a mammoth hummingbird, poised in resistance to the wind. The exuberance of the moment is embodied and apparent in the color and surface of the canvases. Particularly in the large-scale portraits, one finds a reserved surrealism in which color and perspective are hyperstylized in service of a larger idea. For example, there's a rich "back catalog" of pictures in Lindquist's Western cycles — a set of motifs in homage to the explorer/artists of the 1820's. He is especially captivated by the sketches they made of a number of medicine women they encountered, "half warrior, half mother," adorned with various talismans and animal spirits for performing healing ceremonies and the like.
What may superficially seem like cultural appropriation, is in fact a subject matter of armature that inspires another kind of painting that is almost more of a spiritual matter than a figurative one — reflecting an appreciation for the power of nature by depicting those who have experienced and channeled it before him. People in today's fine art world sometimes don't know quite what to do with sincerity. The thing about Lindquist's work is, there's no irony, no subtext, just raw energy and pleasure without affectation. He wants to be understood, not to cultivate political commentary or ambivalence. So while Lindquist acknowledges there might be some resistance to a modern white male incorporating such imagery into his work, the artist instead sees his compositions as hybrid, energetically raw and unfiltered appreciations of some of the world's most enduring sources of beauty.
–Shana Nys Dambrot
Los Angeles 2014
Still Art Collections:
Museum of Modern Art, NYC
Whitney Museum, NYC
La Villette, Paris
Various private collectors in NYC and Los Angeles.
Awards:
MTV Breakthrough Video "Peter Bardens – Gold"
MTV Best New Artist "Michael Penn – No Myth"
MTV Best New Alternative Video "Belly – Feed the Tree"
Cine Golden Eagle "The Loop"
Silver Medal Austin Film Festival (new media) "Land the Shuttle"
Group Shows:
Broome Street Gallery, NYC
The Tunnel, NYC
Avenue C Gallery, NYC
Citibank Gallery, LA
Eric Garcetti's Gallery/Office
Silverlake Art Collective art tours